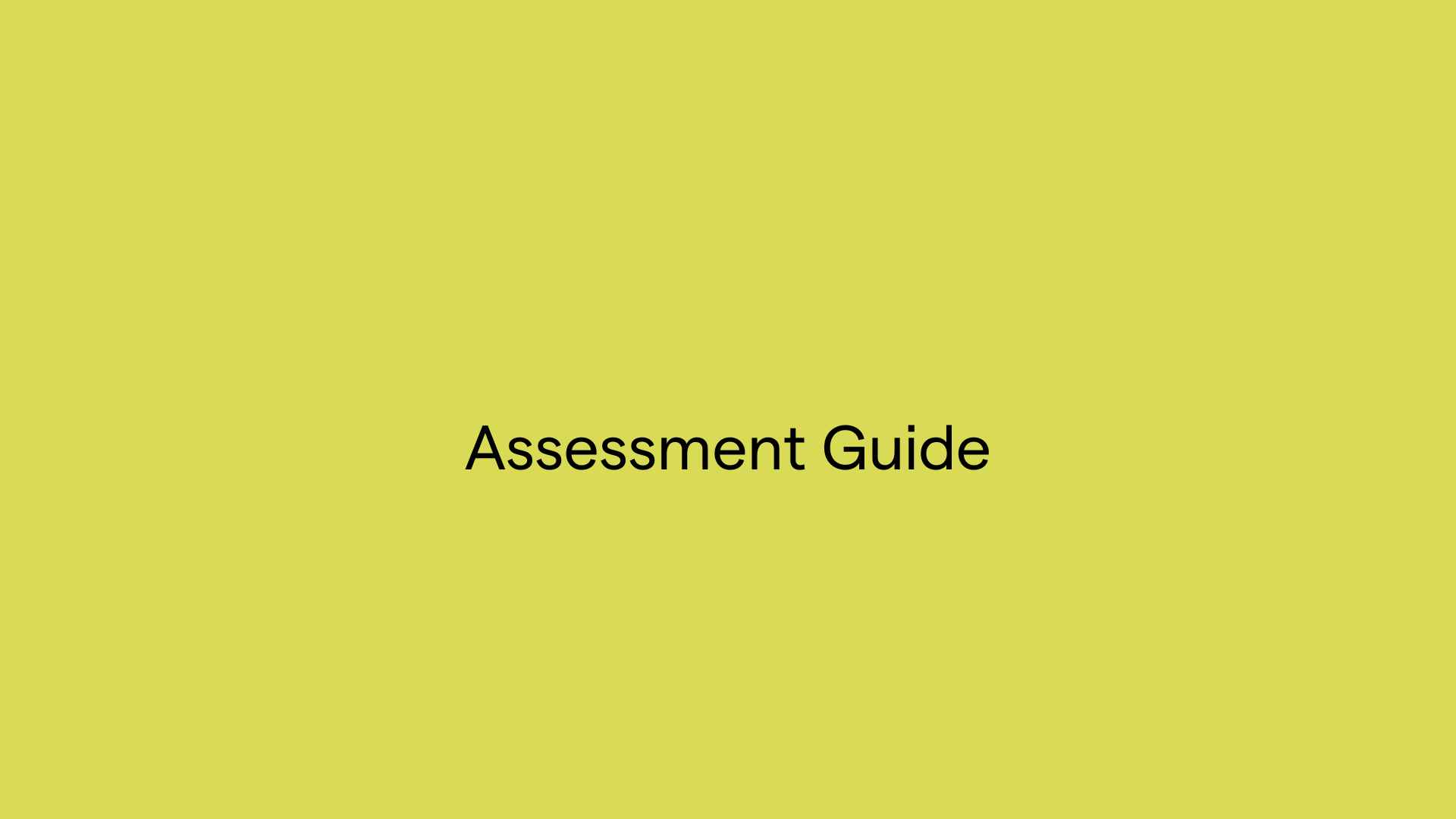 Nov 17, 2020

|

2

minute read
Therapeutic Alliance | BR-WAI
Brief Revised Working Alliance Inventory (BR-WAI)
Recommended frequency: Every 4 weeks
Summary
Therapeutic alliance is defined as the collaborative bond between a patient and therapist. Research has consistently found that a strong relationship between a patient and therapist is a key determinant of successful outcomes across a range of psychotherapies (Bordin, 1979; Wolfe and Goldfried 1988; Horvath and Greenberg 1989; Hovarth and Symonds 1991).
The working alliance inventory was developed by Dr. Adam Horvath in 1981. The source article has been cited more than 830 times, the measure has been translated into more than 18 languages, and a recent meta analysis reported its use in 80 of 201 studies since 1973 that associated psychotherapy outcome with the working alliance (more than the next three most frequently used measures combined) (Horvath, Del Re, Fluckiger, & Symonds, 2011). No single psychotherapy process variable or characteristic of client or therapist appears to account for more of the variance in psychotherapy outcomes than the working alliance (Lambert, 2013; Wampold, 2001). Thus, over the past quarter-century, the WAI has emerged as the leading instrument to assess quality of the psychotherapy relationship, and has been at the forefront of research to establish the working alliance as one of the most important constructs in psychotherapy research. (Mallinckrodt & Tekie).
The Brief Revised Working Alliance Inventory ("BR-WAI") is a recently refined measure of the therapeutic alliance between a patient and therapist. It was developed by applying the Rasch model item response theory to maximize total test information and the "bandwidth" of item difficulty.  The BR-WAI is a 16 item measure with 8 questions on 'Bonds' and 8 questions on 'Tasks and Goals'.
Greenspace is using the BR-WAI to measure therapeutic alliance.
Disclaimer
All information contained in this document was derived from materials developed by the creators and/or licensors of the BR-WAI. The information provided herein is not exhaustive. Nothing herein shall be construed as a treatment recommendation by Greenspace.
The Scale
In the next set of items are sentences that describe different ways a person might think or feel about his or her counselor or therapist. We realize that your thoughts or feelings may undergo changes over a period of time, but we would like to know your views or feelings as of right now.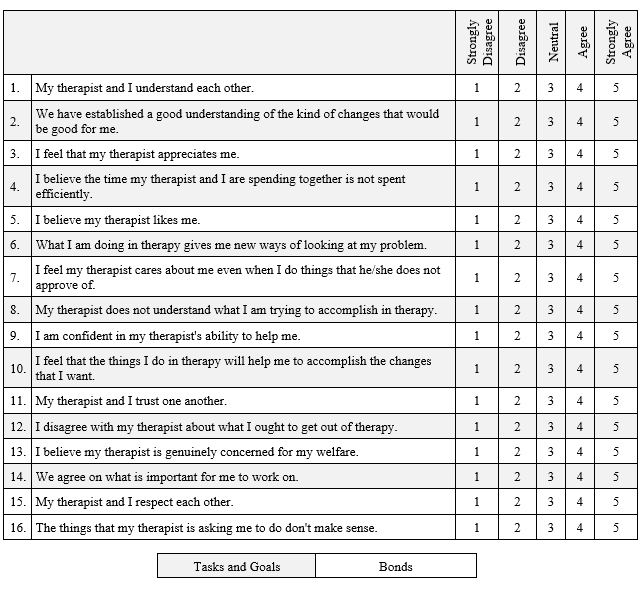 Scoring
The total score of the BR-WAI is calculated by adding up all of the items. Reverse items, 4, 8, 12, 16, are scored inversely: (5=1) (4=2) (2=4) (1=5). A higher score represents a stronger alliance.
A subscale score for Bonds is calculated by adding questions: 1, 3, 5, 7, 9, 11, 13, 15.
A subscale score for Tasks and Goals is calculated by adding questions: 2, 4, 6, 8, 10, 12, 14, 16.
Copyright Information
Mallinckrodt, B. & Tekie, Y.T. Department of Psychology, University of Tennessee. Revision of the Working Alliance Inventory and Development of a Brief Revised Version Guided by Item Response Theory.
Horvath, A. O., & Greenberg, L. S. (1989). Development and validation of the Working Alliance Inventory. Journal of Counseling Psychology, 36, 223-233. doi: 10.1037/0022-0167.36.2.223