Generalized Anxiety Disorder 7 (GAD-7)
Recommended frequency: Every 2 weeks

Summary
The Generalized Anxiety Disorder 7 ("GAD-7") is an instrument for monitoring and measuring the severity of generalized anxiety disorder. The GAD-7 has also been validated to have good sensitivity and specificity for monitoring other anxiety disorders, such as panic, social anxiety and post-traumatic stress. The GAD-7 was developed based on generalized anxiety criteria found in DSM-IV. The instrument is 7 questions long and each question rates the frequency of the symptoms, which factors into the severity index. The GAD-7 is widely used and well validated.
Psychometric Properties
Above a threshold of 10, the GAD-7 has a sensitivity of 89% and specificity of 82%. The GAD-7 also has strong psychometric properties when screening for 3 other anxiety disorders: panic disorder (sensitivity 74%, specificity 81%), social anxiety disorder (sensitivity 72%, specificity 80%), and post-traumatic stress disorder (sensitivity 66%, specificity 81%).
Sources:
The Scale
Over the  last 2 weeks, how often have you been bothered by the following problems?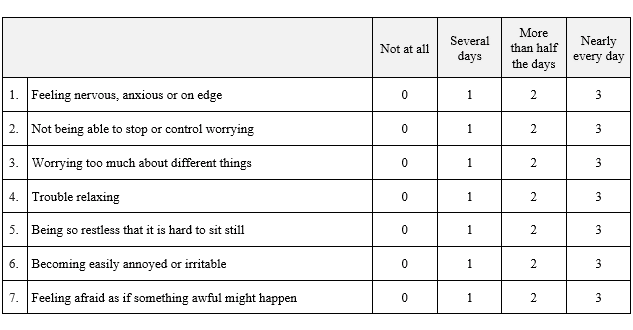 Scoring
Anxiety severity is calculated by assigning scores of 0, 1, 2, and 3, to the response categories of "not at all", "several days", "more than half the days", and "nearly every day", respectively. GAD-7 total score for the seven items ranges from 0 to 21. Scores of 5, 10, and 15 represent cut points for mild, moderate, and severe anxiety, respectively.
Though designed primarily as a screening and severity measure for generalized anxiety disorder, the GAD-7 also has moderately good operating characteristics for three other common anxiety disorders – panic disorder, social anxiety disorder, and post-traumatic stress disorder.
When screening for anxiety disorders, a recommended cut point for further evaluation is a score of 10 or greater.

Copyright
Developed by Drs. Robert L. Spitzer, Janet B.W. Williams, Kurt Kroenke and colleagues, with an educational grant from Pfizer Inc. No permission required to reproduce, translate, display or distribute.